June is Strawberry Month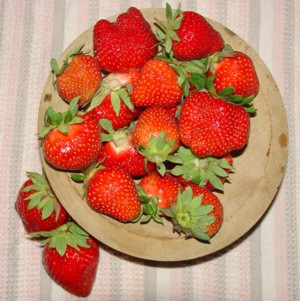 A London cookbook dated 1800, had "Seasons For Fruits" with strawberries listed under the month of June.
In 1861, Beeton's Book of Household Management (London) gave some interesting tidbits on the strawberry.
"Strawberry. – The name of this favourite fruit is said to be derived from an ancient custom of putting straw beneath the fruit when it began to ripen, which is very useful to keep it moist and clean. The strawberry belongs to temperate and rather cold climates; and no fruit of these latitudes, that ripens without the aid of artificial heat, is at all comparable with it in point in flavour. The strawberry is widely diffused, being found in most parts of the world, particularly in Europe and America." (#1365, page 686)
Under another strawberry recipe, the author notes the Greeks and Latins were both fond of the berry. (#1381, page 693)
In Portsmouth, New Hampshire, Strawberry Banke was named after the abundance of wild strawberries found growing on the land when the first settlers arrived in the 1600's.
In Boston cookbooks from the 1830's and 1840's strawberries were used in jam, mixed in pure cream, made into wine, soufflé and tarts. The strawberry shortcake so common today shows up in the 1870's.
New Englanders split the shortcake in half, buttered it while pippin' hot, spread strawberries cut and sweetened with sugar over the shortcake and then poured heavy cream on top. The cream was never whipped. In comparison mid-westerners used whipped cream on their strawberry shortcake as early as the 1870's (Buckeye Cookbook, 1877). American Cookery formerly the Boston Cooking School magazine in 1920-21 published a recipe for strawberry shortcake calling for whipped cream.
Here is an unusual, delicious sounding recipe from Secrets of New England Cooking (1947) and a recipe for Strawberry Shortcake.
Franconia Baked Strawberry Dumplings
This recipe is the prized possession of a lifelong resident of the White Mountains. She serves it on very special occasions during the strawberry season, and for the first time has given the recipe away.
Make a rich biscuit dough [see dough recipe below]. Roll out about half an inch thick and cut in three-inch squares. In the center of each square put about two tablespoons of wild or cultivated strawberries cut in pieces. Cover with one-half tablespoon of sugar and add a tiny pinch of salt. Fold the squares over to form dumplings and brush the tops with a little milk. Bake in hot oven, 400 degrees F., about fifteen minutes. Serve piping hot with the following sauce.
Strawberry Butter Sauce
1 cup strawberries
½ cup butter
1 cup sugar
Mash the strawberries thoroughly. Cream the butter and sugar and mix with the berries. This sauce should be turned over the dumplings while they are hot enough to melt the butter. Serves six.
Strawberry butter sauce is also delicious on hot popovers and hot rice. In season, raspberries and blackberries may be substituted for the strawberries.
Rich Shortcake / Biscuit Dough
2 cups white flour
2 tablespoons sugar
3 teaspoons baking powder
½ teaspoon salt
½ cup butter
1 egg, beaten
2/3 cup light cream
Sift together dry ingredients
Cut in cold butter, to make a course crumbly mixture
Beat egg and light cream together
Add to dry ingredients and stir only to moisten
Turn out on a lightly floured board
Knead gently and pat out to ½ inch thick
For Franconia Baked Strawberry Dumplings
See directions for preparing dumplings under this recipe
Place on ungreased cookie sheet
Bake 400 degree
10 to 15 minutes or until lightly browned
For Strawberry Shortcake
Cut 6 biscuits with floured 2½ inch round cutter
Place on ungreased cookie sheet
Bake 400 degree
10 minutes or until lightly browned
Topping
3 – 4 cups sliced & sugared strawberries
1 cup whipping cream whipped
To Fill
Split biscuits, butter bottoms
Fill with sliced strawberries
Add top of biscuit and cover with strawberries
Top with whipped cream
*For old New England style try pouring thick heavy cream over the strawberries
In New England strawberries ripen near the end of the rhubarb season. It is the perfect time to make a New England favorite "Strawberry-Rhubarb Pie".
Strawberry-Rhubarb Pie
1¼ cups granulated sugar
5 Tablespoon flour
Dash of salt
2 cups rhubarb cut in 1 inch pieces
2 cup strawberries, sliced
1 Tablespoon butter
Pastry
Makes 2 crusts
2 cup white flour
2/3 cup shortening (to cut down on trans fat use 1/3 cup shortening and 1/3 cup butter)
8-10 Tablespoons ice cold water
Cut cold shortening and butter with a pastry blender into flour until crumbly. Shortening/butter should be small pea size pieces when finished.
Gently combine all the ingredients and turn into a pie pan lined with unbaked pastry. Cover with top crust.
Bake 400 degrees for 45-50 minutes