Rolls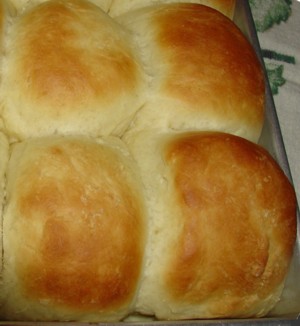 Rolls are exceptionally easy to make. The dough is mixed in a bowl (no kneading), risen, shaped into rolls, risen a second time and baked in fifteen to twenty minutes.
The Basic Cookbook published in Cambridge, Massachusetts periodically from 1933 to 1967, listed Icebox Rolls. The term Icebox was a generalization. Under it, it says Potato Roll dough was best suited as it remained soft and moist, but any roll dough could be placed in the icebox after its first rising. The roll dough could be kept from one day or up to two or three days if a temperature of 45 degrees or lower could be maintained. This made a convenient way to keep on hand, ready to make rolls.
Icebox Rolls or Refrigerator Rolls as they were later called are one of the easiest rolls to make. Modern Icebox Roll recipes are based on old French Bread recipes which were often made into rolls. In The Servants' Guide & Family Manual published in London in 1831, French Bread, "Includes all varieties of fine bread baked with milk, eggs, and butter ..." The combination
of milk, eggs and butter are what make the roll dough different from bread dough.
One thing can make rolls fail, improper handling of yeast. To prevent failure, use this fool-proof method "proof the yeast" first. This makes sure the yeast is working before adding the rest of the ingredients. The yeast is put in a small amount of warm water (105 to 115 degrees) with a little sugar. Finger test: put your finger in, you should be able to just hold it in without burning. Too hot or too cold and it will kill the yeast. The yeast mixture is allowed to set for five to ten minutes in which time it will double (foam). If the yeast does not double it is dead, throw it away and try another package of yeast. Dates on packages are guides they sometimes fail in letting you know if the yeast is still active. It is wise, to "proof" your yeast every time.
Easy Homemade – Bakery Style Rolls
Mix – Refrigerate – Shape & Rise – Bake
(Makes twenty four rolls)
Proof yeast: mix the following 3 ingredients in a glass measuring cup & let stand 5 to 10 minutes until foamy and doubled
2 packages dry yeast
½ cup warm water (105 – 115 degrees)
½ teaspoon sugar

Mix: pour yeast mixture into a large bowl
Add: ½ cup warm water
½ cup sugar
3 eggs
½ teaspoon salt
4 to 4 ½ cups white flour (not all the flour may be needed)
Make a semi-stiff dough; form into a large ball. Cover tightly and refrigerate. In 2 to 4 hours the dough will double in size. It is now ready to use or can be left in refrigerator up to 4 days. If desired, split dough to make two batches. If split take out only what portion is needed.
To Make Rolls: Roll out cold dough on a lightly floured board into a thick rectangle, cut into squares, roll in hands to form a ball, place an inch apart on a greased baking dish 13" x 9", cover with plastic
Rise: let stand one to two hours in warm place until doubled
Bake: 375 degree oven for 15 to 20 minutes until golden brown
Serve warm

History of Rolls
English
The earliest use of the name "Rolls" was found in the Art of Cookery Made Plain and Easy by Mrs. Glasse in London in 1784. Her French Bread recipe called for a soft dough made with milk, eggs, and butter. "Make into rolls ..." French Bread was popular in England as it was better than English breads.
French Bread rolls according to other English cookbooks were small versions of loaves of French Bread. French Bread dough is soft, too soft to roll out. The concept of rolling is therefore not associated with the name. The French Bread rolls were described as being large and long. Their actual length is unknown, however they may have been the size of a rolling pin, hence the name rolls.
In A Modern System of Domestic Cookery by M. Radcliffe in Manchester, [England] in 1823 the author listed "Famous Bath Rolls or Cakes", along with French Rolls, Potato Rolls and Sally Lunn's Tea-Cake. In this cook book rolls have acquired a variety of names depicting different types.
New England
Some English-British roll recipes came to America and show up in early 1800's cook books. By the last half of the 1800's New England and other parts of America developed their own roll recipes. From New England came the: White Mountain Roll, Parker House Roll and Coffee Roll. Another roll name that shows up in New England is the Featherbed Roll listed in A Vermont Cook Book from 1946. The shape of the Featherbed Roll is identical to the Crescent Roll which shows up in another New England cook book around the same time. The name "Crescent" far better suited the shape and stuck. The ingredients list and its quantities are the same as the roll recipe included in this article with the exception it called for all white flour and lard instead of butter. The roll is delicate and feather-light.

From Appledore Cookbook (1872 - New Hampshire)
"White Mountain Rolls"
For More Information Please See the White Mountain Rolls Page
"For Breakfast. Sixteen cups of flour, one half a cup of white sugar, one cup of butter, one of yeast, the whites of four eggs beaten to a stiff froth, and four cups of boiled milk. Melt the butter, have the milk blood-warm, and mix the bread; set in a warm place, and rise over night; in the morning shape into long rolls, rise one hour, and bake half an hour."
The use of egg whites is what distinguished this roll from other rolls. Egg whites beaten stiff was an old method of making roll or bread dough lighter.
"Parker House Rolls"
To sixteen cups of flour, one tablespoon of lard, a little salt, two cups of milk and half a cup of yeast. This recipe lacks the sugar, egg whites, and reduced the lard significantly making it a plain roll. The dough was rolled out to a half inch thickness, cut into an oval shape, and folded over. The folding created a distinct shape. Its name came from where it was developed, the Parker House in Boston, Massachusetts.
"Coffee Rolls"
This roll's ingredients and shape are similar to the White Mountain Rolls. But it introduces whole eggs in lieu of egg whites and adds grated nutmeg. The warm rolls when taken out of the oven are glazed with a mixture of milk and brown sugar. "These are for tea." Although they are long rolls, they are adapted for tea by being "sliced thin".
Here we have rolls garnished with a sweet icing. They are called Coffee Rolls, but intended for an afternoon tea. They were adapted from the long breakfast roll by slicing the rolls into thin slices, to make them dainty.
Cook books from the 1880's list numerous recipes for rolls. There were rolls for every occasion, breakfast, lunch, sandwiches, tea, and dinner. There were plain rolls and sweet rolls. Rolls became extremely popular, perhaps because they were easy to make and baked in a much shorter time than bread. Rolls cooked quickly in under a half-hour whereas bread took up to two hours if large. Rolls did not replace loaf bread they were used along with bread.