White Mountain Rolls & Bread Sticks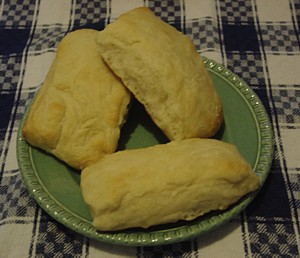 Basic recipe and ingredient list is from the 1884 Boston Cooking School Cook Book. It is the same for rolls and sticks.
Ingredients
4 cups white flour
2 Tablespoons sugar
¼ cup butter
1 package active dry yeast or
1 Tablespoon active dry yeast
1 cup milk
½ teaspoon salt
1 egg white, beaten
1) Warm milk in a sauce pan to lukewarm, so you can just hold your finger in it without burning your finger
2) Pour ¼ cup warm milk in glass measuring cup, add yeast and ¼ teaspoon sugar and stir, let rise 5 to 10 minutes. This is proofing yeast. If yeast does not rise in 10 minutes throw away, yeast in no longer active and will not raise your dough. Repeat with fresh yeast.
3) Add butter, sugar, salt to warm milk in pan, allow to melt
4) In a separate bowl: Beat egg white until stiff but not glossy
In mixing bowl
Pour in milk, butter, sugar and salt mixture
Add proofed yeast to mixture
Mix flour in one cup
Fold in beaten egg white
Mix in rest of flour one cup at a time (quantity of flour may vary); old recipes called for stiff dough while a modern recipe called for soft dough. Experiment and use the type of dough you prefer. The stiff dough will give you a dense bread stick or roll. The soft dough will give you a light and airy bread stick or roll.
Kneading
Knead: Original recipe with stiff dough kneads the dough until smooth and elastic
Do Not Knead: Modern recipe with soft dough does not knead dough

1st Rising
Cover dough with damp cloth or place in greased bowl, and cover with plastic and cloth towels
Let rise 1 to 2 hours until double in size
2nd Rising & Shaping
Punch dough down:
White Mountain Rolls: Cut dough up into large balls and shape into large, long rolls (exact size and length not given)
Bread Sticks: Cut dough up into small balls and shape into a long, thin roll about 1 foot long
OR
Modern Way:
Cut dough in strips
¼ inch wide by 8 inches long (stick - dry center)
½ inch wide by 8 inches long (stick - soft center)
2 inches wide by 8 inches long (roll - soft center)
Let rolls or sticks rise until double in size
Egg Wash
Brush with: 1 beaten egg white
1 Tablespoon water
This gives bread sticks and rolls a brown crust
Bake
400 degrees for 15 minutes
History
A Roll recipe calling for several beaten egg whites was found in the 1841 The Good Housewife published in New York. The cook book author was originally from New Hampshire. Beaten egg whites in combination with a large, long roll are the key factors in distinguishing the White Mountain Roll from other rolls. The name White Mountain Roll shows up in the 1872 Appledore Cook Book.
In Hood's Sarsaparilla advertisement pamphlet Good Bread published in the 1870's there is a recipe for Soup Sticks. The recipe called for a beaten egg white and bread dough shaped in a long strip like a stick. The stick had a dry crisp inside. The Hood Company had its headquarters in Massachusetts.
In Mrs. Lincoln's 1884 edition of the Boston Cooking School Cook Book she has a recipe for Sticks. Under the directions she distinguishes between sticks and rolls. Sticks: "Shape into small balls; then roll into sticks a foot long." Rolls: "When shaped into large plain rolls, they are called White Mountain Rolls."
In 1909, one of the women from Island Pond, Vermont contributed a Fried Rolls recipe to the Island Pond Cook Book. The ingredient list is the same as for White Mountain Rolls. The size and shape were similar except smaller, shape into long finger rolls. The main difference was the Vermont rolls were fried and the White Mountain Rolls were baked.
Around this time White Mountain Rolls apparently went out of favor for they no longer show up in the Boston Cooking School Cook Book. The Sticks recipe continued to be published but only with directions for sticks. Bread Sticks became the favored recipe. It was found in the 1938 edition of the Settlement Cook Book from Milwaukee, Wisconsin. This cook book was to the Midwest what the Boston Cooking School Cook Book was to New England. Both had numerous editions. The White Mountain Roll recipe is seen one last time in Secrets of New England Cooking 1947.