Lemon Meringue Pie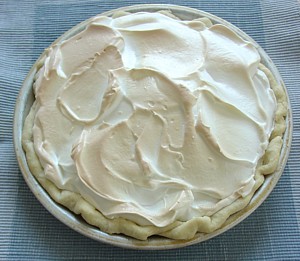 Pastry
Makes 1 crust (for two crusts double recipe)
1 cup white flour
1/3 cup shortening (to cut down on trans fat use 2½ Tablespoons shortening and 2½ Tablespoons butter)
4-5 Tablespoons cold water
Cut cold shortening and butter with a pastry blender into flour until crumbly. Shortening/butter should be small pea size pieces when finished.
Sprinkle 1 tablespoon cold water over mixture at a time. Mix gently with a fork. Repeat until the flour and shortening mixture is moistened. It is moistened enough when the dough will hold together in a ball.
Lightly flour a surface, flatten dough out slightly with your hand, turn dough to coat both sides lightly with flour, starting in the center roll out to the edge, turn rolling pin slightly and repeat, each time you roll out from the center, this forms the circle. Lift pastry from time to time to make sure it is not sticking to surface, if it is sticking add a little more flour. Roll out to 1/8" thick. If outer edges split, dab a little cold water on split edges, overlap and press together. Or trim edges if the dough is rolled out larger than the pie plate. Fold the dough twice and lift into pie plate.
Place in pie plate, fold edges over to make a slightly thick edge, with a fork prick holes in the pie crust, all over. Place in refrigerator for 30 to 45 minutes to chill (prevents bubbling of crust), then bake at 450 degrees until crisp and delicately browned, about 10 to 12 minutes.
Lemon Filling
1 cup sugar
3 Tablespoons corn starch
3 egg yolks
Grated rind of 1 lemon
¼ cup lemon juice
1 Tablespoon butter, optional
Top Pan:
Stir in sugar and corn starch
Gradually add:
1½ cups cold water, stir until smooth
Add:
3 egg yolks, mix well
Fill bottom of double boiler a ¼ full with water,
Place top pan with egg mixture on bottom pan, turn on heat,
Stir constantly until mixture is thickened, a whisk works well to keep egg yolks blended (stirring prevents egg yolks from forming curds), mixture will not come to a boil in top boiler (too little heat),
After thickened, take top pan off bottom and place on burner on low, continue cooking for one minute,
Stirring constantly bring egg mixture to a boil,
Remove from heat,
Stir in grated lemon rind, lemon juice and butter,
Pour into a bowl, place a piece of wax paper or plastic wrap on top in contact with filling, this prevents a crust from forming, put in refrigerator and chill, 2-3 hours,
Peel off wax paper and scrape filling into bowl, pour chilled filling into baked pie crust
Meringue
3 egg whites, room temperature
6 Tablespoons sugar
1 Tablespoon lemon juice, optional
Place egg whites in bowl, with mixer on high speed beat the whites until foamy,
Gradually beat in sugar
Beat until stiff peaks form,
Spread meringue out to edge of crust, swirl to make peaks,
Bake in low 300 degree oven for 15 to 20 minutes until lightly browned, one cook book said low oven prevents dew drops on meringue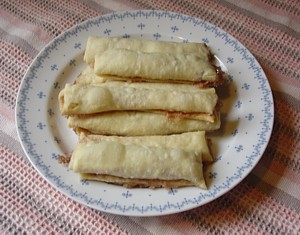 Leftover Pastry – Cinnamon & Sugar Rolls
Re-roll scraps of leftover pastry into a ball. Roll out paper thin. Trim uneven edges. Cut into rectangles about 4" x 4".
Melt a little butter, brush on pastry rectangles
Sprinkle generously with cinnamon & sugar mixture*
Roll up, pinch ends
Cover with plastic wrap and refrigerate until pie is cooked and cinnamon rolls can go into oven
Bake 20 minutes in 350 degree oven
Remove immediately from pan with metal spatula, let cool
Cinnamon & Sugar Mixture
teaspoons
½ cup sugar
Mix
Uses: Cinnamon Toast, Cinnamon Pastry Rolls, Cinnamon Bread Rolls, Cinnamon Raisin Bread
History
Meringue was originally used to frost cakes. Later it became a popular topping for many pies. A Rhode Island cook book from 1947 starts its pie section with a recipe for pastry and another recipe for meringue "Cover Pudding or Pie".
In an 1878 Detroit cook book there are numerous Lemon Pie recipes. In the 1884 Boston Cooking School Cook Book there were three Lemon Pie recipes. Among the Detroit recipes is one for a recipe close to our modern version. In it the filling is cooked and then poured into a baked pie crust. By 1886, Lemon Pie recipes abound from Connecticut out to California as seen in "My Favorite Receipts" published by the Royal Baking Powder Company.
New England was a late comer to widely adopt the Lemon Pie recipe. By 1855 lemon pie had made it into the region. One recipe called for molasses and lemon. In the early 1900's New Englander's favored a partially cooked egg yolk, sugar, water and lemon filling that was baked in one and two crust pies, a pie with beaten egg whites mixed in with the lemon/egg mixture, and a pie with milk. Meringue was added to the pies without a top crust.
What's in a name early cook books assigned a number to the recipes: Lemon Pie I, Lemon Pie II, Lemon Pie III, etc. These were all different versions of lemon pie. In the 1930's names started being given to lemon pie recipes. The pie mixture with the beaten egg whites was named Lemon Chiffon Pie. Some time later, the pie mixture with milk was named Lemon Custard Pie. One cook book recipe added meringue and called it, Lemon Custard Meringue Pie. A lemon custard type pie with flour added was called a Lemon Sponge Pie. The simple pie mixture with egg yolks, sugar, water and lemon did not fit the chiffon or custard definitions. Meringue was often specified as a topping for this pie. It came to be called Lemon Meringue Pie.
Today, Lemon Chiffon Pie has unflavored gelatin added to the beaten egg whites to keep the delicate textured pie firm. It is smooth and delicious. Recipes are found in most cook books. The Lemon Meringue Pie originally had the egg yolks added after the sugar, water, and lemon mixture was boiled and cooled. Cooks eventually added the egg yolks to the cold, lemon, sugar and water mixture, when they learned how to cook the yolks without curdling (scrambled eggs). The egg yolk mixture has to be stirred constantly and cooked in a double boiler over boiling water not a direct flame. This is the recipe we use today.