Blueberry Pie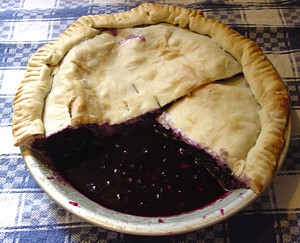 Blueberry pie is a New England summertime favorite. The blueberry is available wild and cultivated. I favor wild blueberries for their flavor. New Englanders who do not have access to picking wild blueberries can purchase them in the supermarket. These are wild blueberries harvested commercially in Maine and sold frozen throughout the year.
The wild blueberry comes in several varieties. The Wise Encyclopedia of Cookery (1948) lists: Lowbush, Highbush, Dryland, Evergreen, Mountain, Rabbiteye and Canada Blueberry. According to the encyclopedia blueberries grow from northern Florida up the east coast to Canada and westward to Michigan and Oklahoma. Plus they grow on the Pacific coast. Some are native to certain locales and others are cultivated. Blueberries that grow on dry land are called Dryland. The Highbush prefers moist environments such as swamps, damp woods and fields. These grow 10 to 15 feet high. Lowbush an important commercial species is native to the northeastern United States. These grow 6 to 18 inches high. The three varieties pointed out are found in New England.
According to the encyclopedia outside of New England there has been a tendency to group all varieties under the common name of huckleberry: "Generally the lighter blueberries with their dewy [frosty] coats are known as blueberries, while the darker berries, some of which are nearly black, are known as 'huckleberries'. Blueberries have smaller seeds and are generally sweeter." (p.103) Huckleberries have larger and more seeds.
Berry pie shows up late in the history of cooking. The earliest reference was the Appledore Cook Book from 1872 with a recipe for Berry Pie. The pie recipe called for 2 spoonfuls of sugar. This was very low in sugar compared to later versions which call for 1 cup of sugar. The author, Miss Parloa listed the following berries: blueberries, blackberries, raspberries, strawberries, cherries, and currants. Her next book Miss Parloa's New Cook Book & Marketing Guide (1880) published in Boston omitted the Berry Pie recipe. This cook book did have a recipe for Pickled Blueberries. The berries were pickled by placing them in molasses. Mrs. Lincoln's 1884 Boston Cooking School Cook Book had a Berry Pie recipe but did not list blueberries or huckleberries. Paul Richards Book of Breads, Cakes, Pastries (1907) noted berry pies including blueberry were made in New York hotels for the past 20 years. That pushes the berry pie in commercial cooking back to circa 1887. His recipe was called Berry Pies. Another 1907 cook book Lowney's Cook Book published in Boston had the earliest known recipe called Blueberry Pie. This was followed by Fannie Farmer's 1910 Boston Cooking School Cook Book that likewise listed a Blueberry Pie. She pointed out in her cook book "For sweetening, some prefer to use one-third molasses, the remaining two-thirds to be sugar." The molasses used in the pickled blueberries from the 1880's remained a favored ingredient in New England for many years. Mrs. Lincoln pointed out another tidbit, "Do not spoil the fruit flavor by using spices." I agree with her when spices are added they overpower the flavor of the berries.
Blueberries although they grow in many areas may not have been widely available. It was surprising to see many New England cook books from 1900 to 1960 did not have a Blueberry Pie recipe. Only a few cook books from that period did have a Blueberry pie recipe. One exception was the 1938 Good Maine Food whose state has a large native wild commercial blueberry industry.
Whether you trek into the field for the wild lowbush or put rubber boots on to wander the swamps for highbush or go to the farm for cultivated the trip is worth it. Many farms offer pick your own blueberries. These are cultivated blueberries on bushes 5 to 6 feet high. Perfect for easy picking. Pie is just one way to use blueberries. Cobbler, cake, and muffins are delicious and wonderful summertime treats. Try them fresh in your morning cereal.
Blueberry Pie
Pastry
Makes 2 crusts
2 cup white flour
2/3 cup shortening (to cut down on trans fat use 1/3 cup shortening and 1/3 cup butter)
8-10 Tablespoons cold water
Cut cold shortening and butter with a pastry blender into flour until crumbly. Shortening/butter should be small pea size pieces when finished.
Sprinkle 1 tablespoon cold water over mixture at a time. Mix gently with a fork. Repeat until the flour and shortening mixture is moistened. It is moistened enough when the dough will hold together in a ball.
Lightly flour a surface, flatten dough out slightly with your hand, turn dough to coat both sides lightly with flour, starting in the center roll out to the edge, turn rolling pin slightly and repeat, each time you roll out from the center, this forms the circle. Lift pastry from time to time to make sure it is not sticking to surface, if it is sticking add a little more flour. Roll out to 1/8" thick. If outer edges split, dab a little cold water on split edges, overlap and press together. Or trim edges if the dough is rolled out larger than the pie plate. Fold the dough twice and lift into pie plate.
Filling
4 cups fresh blueberries
3 Tablespoons flour
¾ cup sugar
Mix thoroughly and pour into unbaked crust
Add top crust, fold and crimp edges, cut several slits in top to allow steam to escape
To brown crust brush with milk
Bake 450 degrees for 10 minutes, turn oven down to 350 degrees for 35 to 40 minutes