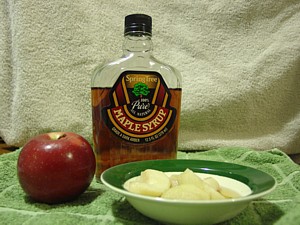 Baked Apples with Maple Syrup
This recipe comes from a newspaper clipping found in a 1915 New Jersey cook book. The newspaper's name and date are unknown. But on the back of the clipping is a clue to its age. The back of the clipping has the following movie review:
In "The Lone Wolf in London" Gerald Mohr is suspected by Scotland Yard when the 'fabulous' Eyes of the Nile diamonds disappear, for the police, as well as fans, must remember that debonair Lone Wolf Lanyard is an ex-jewel thief.
Far too complicated to tell here, the plot, as it will surprise no "Lone Wolf" fan to learn, involves theft of the jewels, blackmail, the chase of a beautiful woman in mink, and of course, a corpse or two.
Our hero, the ex-bad boy, not only proves his own innocence, but naturally put the finger on the real crook, and in superior fashion, as pointed out by his bosses at Columbia Pictures.
While Private Eyes Humphrey Bogart, Dick Powell and Alan Ladd always get beat up solving crimes, say Columbia's press department, the Lone Wolf not only emerges victorious, but in one piece and without so much as a speck on his white gloves.
Figure out the year this movie came out and you get the date of the recipe. Answer below.
New England Baked Apples Recipe in Newspaper
"NEW ENGLAND has a way of baking apples that is scrumptious. Butter a casserole or other baking dish and fill it with quarters of apples that have been peeled and cored. Dust cinnamon over them as you go along. Then, for a quart sized dish, pour in one cup of maple syrup. Cover and bake in a slow oven until apples are tender. Serve hot with cream. A Philadelphia touch to this dish is a sprinkling of walnuts over the apples."
Answer: 1947 was the year the movie was made.
Comments: Two cultural centers in the United States are acknowledged, New England and Philadelphia. Each shows a local cultural aspect of "baked apples". The use of maple syrup suggests the recipe comes from Vermont. Is it correct?
History of Baked Apples
"The apple has been used for centuries by almost every nation; it was probably one of the first fruits cultivated by man. It is mentioned in many legends of ancient time." The Wise Encyclopedia of Cookery (1949)
Today most people think of Baked Apples as whole apples with core removed, skin left on, baked in syrup, with or without a filling. Yet not long ago, baked apples referred to quartered, halved or whole apples, with or without the skin on. This is reflected in the 1947 newspaper recipe above.
The earliest recipe for baking apples I found was in the 1685 London cook book The Accomplisht Cook. The apple recipes were "Pippin Pye", "Pippin Tart", and "Pippin Tart, either in Tart, Patty-Pan, or Dish" A tart was a dish filled with preserved fruit or fresh fruit covered with a top pastry crust. There was one exception, the Dish in the last recipe. The fresh fruit was placed "between two dishes" and baked. This is the same as the New England Baked Apple recipe above. However, there was a difference in the ingredients.
The 1685 recipe from England cooked pared [peeled], cored, quartered apples in claret wine. After the apples were cooked, they were carefully laid in the tart and sweeten citron, candied oranges, and sugar was added.
The first whole apples baked showed up in 1784 in another London cook book The Art of Cookery. This cook book had two different baked apple recipes: To make Black Caps and To baked Apples whole. The recipe for whole baked apples said to put the apples in an earthen (ceramic) pan with sugar and wine, and bake for an hour. The Black Caps recipe said to halve and core the apples, place face down sprinkle lemon juice mixed with orange water and sugar, and bake. The two recipes used different liquids. The Whole Baked Apples had wine and sugar. The Black Caps had flavored water and sugar.
American Cookery by A. Simmons published in 1796 in Hartford, Connecticut, had a recipe for an Apple Tart. The apples were stewed and strained. To the strained apples, rose water and wine, and sugar were added. In this recipe although it is not baked apples, it combined flavored water and wine together.
The first whole baked apple recipe to show up in New England was published in 1832 in the Boston edition of the Cook's Oracle. This recipe was a copy of the 1784 London recipe from The Art of Cookery.
The Boston Cooking School Cook Book's earliest edition was published in 1884. "Baked Apples. – Core and pare sour apples. Put them in a shallow earthen dish, fill the cavities with sugar, mixed with grated lemon rind; add water to cover the bottom of the dish. Bake in a very quick oven till soft, basting often with syrup [sugar / water in dish]." The recipe used plain water and sugar. This is a change from the flavored water used in England. It reflects baked apple recipes in America. After Fannie Farmer took over the Boston Cooking School she noted in the 1912 edition "Many prefer to pare [peel] apples before baking." So published recipes do not always reflect what is going on.
At an unknown date in time New Englanders who had been making maple syrup for three centuries made their own change to the recipe. They used maple syrup instead of plain water and sugar for the liquid/syrup. Recipes with maple syrup start showing up in cook books in the mid 1940's reminiscing about New England cooking. This is the same time the newspaper recipe was published. Cook books often play catch up in publishing recipes in current use.
A series of small regional pamphlet-like cookbooks were published starting in the 1930's. The first was the New England Cook Book. That cook book had a recipe for "Baked Apples Vermont". It listed 6 medium tart apples, 2 tablespoons butter, ½ cup maple syrup or brown sugar, ½ cup water. When more than one cook book was published within the same region a recipe in one cook book was not republished in the other cook book so Baked Apples Vermont is not in the Vermont Cook Book. Instead the Vermont cook book published "Maple Baked Peaches", 4 large peaches and ½ cup maple syrup. Vermont was not the only state to produce maple syrup. Maine, New Hampshire, Massachusetts, and our neighbor to the north Canada did also. In Secrets of New England Cooking (1947) there is a recipe for "Maine Apples in Maple Syrup". This recipe like the "Baked Apples Vermont" called for apples, maple syrup, butter, and hot water. According to this cook book "Peaches and pears may be substituted for apples." The "Baked Pears in Maple Syrup" does not dilute the syrup with water which is the same as "Maple Baked Peaches" recipe in the Vermont cook book and the New England Baked Apples recipe in the 1947 newspaper.
New England Maple Baked Apples Recipe
4 tart apples (medium), peeled, cored, quartered
½ cup maple syrup
Place apples in baking dish, pour in maple syrup, cover dish
Bake 350º, 30 minutes or until soft
A few days after posting "Baked Apples with Maple Syrup" a person from England visited the recipe page looking for information / recipe for Black-Caps. Black-Caps were mentioned in the history of baked apples but no recipe was posted. I do not ordinarily do this but have chosen to make an exception and add an addendum to New England's baked apples.
An early Black-Caps recipe showed up the 1784 edition of The Art of Cookery, authored by Mrs. Glasse and published in London. The cook book listed two baked apple recipes: "To make Black-Caps and To bake Apples whole." They both baked the apples but in different ways. The two recipes are on page 166.
To make Black-Caps
"Cut twelve large apples in halves, and take out the cores, and place them on a thin patty-pan or mazarine, as close together as they will lie, with the flat side downwards ; squeeze a lemon into two spoonfuls of orange flower water, which pour over them, shred some lemon-peel fine, and throw over them, and grate fine sugar all over. Set them in a quick oven, and bake them half an hour. When served, strew fine sugar all over dish."
To bake Apples whole
"Put your apples into an earthen pan, with a few cloves, a little lemon-peel, some coarse sugar, a glass of red wine ; put them into a quick oven, and they will take an hour baking."
The Cook's Oracle another London cook book was re-published in New England with modifications to suite New Englanders and was labeled the Boston edition. The 1832 edition carried two recipes for Black-Caps on page 3.
Apple Black-Caps (1) "Divide twelve large apples in halves, core them, and place them on a thin patty-pan or mazarine, quite close to each other, with the flat side downwards ; squeeze a lemon into two spoonfuls of orange flower water, which pour over them, and grate fine sugar all over. Set them in a quick oven, and bake them half an hour. When served, strew fine sugar all over dish."
Apple Black-Caps (2) "Pare the apples, lay them in your pan, strew a few cloves over them, a little lemon-peel cut very small, two or three blades of cinnamon, and some coarse sugar ; cover the pan with brown paper, set it in an oven with the bread, and let it stand till the oven is cold."
The Apple Black-Caps (1) is a duplicate recipe of the 1784 recipe. This was common practice to copy recipes. The Apple Black-Caps (2) although it does not state it used whole apples. It used cloves and coarse sugar which was in the recipe "To bake Apples whole" from 1784. However, there are two major differences: the apples are peeled and the dish is covered during the baking process. So although this is a very similar recipe to the whole baked apples it made some changes.
In New England the recipe for Black-Caps with spice was carried on but in general under baked apples recipes. The name did not survive.
In the mid-western states of America the name survived until 1883. The Buckeye Cookbook published a recipe for Black-Caps on page 162.
Black Caps
"Pare and core tart apples with apple-corer, fill the center with sugar, stick four cloves in the top of each, and bake in deep pie plates, with a little water."
This version of the recipe truly gave the apple a black cap.