Stuffing for Turkey & Chicken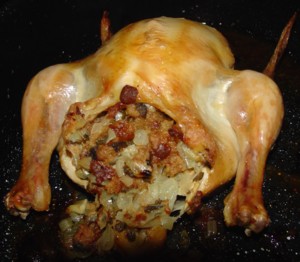 A quaint 1962 cookbook from Cape Cod has a recipe for New England Stuffing. It is part old fashion and part modern. The recipe calls for an egg which is old fashion and an onion which is modern.
Bread Stuffing
(Enough to fill a chicken, Triple for a 12 lb turkey)
2 Slices of homemade bread or 4 slices of grocery store bread, semi-stale (fresh bread is too soft), cut the bread up into small cubes
2 Tablespoons of butter melted
˝ Onion, chopped or
1 Celery Stick, chopped fine
Herbs are a matter of personal taste (fresh, chopped or dried), use single or mix any combination: Sage, Thyme, Summer Savory, Marjoram, or Poultry Seasoning; Season to taste: start with one teaspoons single herb or two teaspoons mixed herbs, adjust by teaspoons to your taste.
Boiling Water to moisten.
Optional Ingredients:
Mushrooms, chopped
Sausage cooked and chopped
Chestnuts, cooked and chopped
Raisins
Oysters, cooked and chopped
Apple, raw, chopped
Walnuts, chopped
Parsley
Sweet Basil
Salt & Pepper

History
America's earliest published cookbook from 1796 has one recipe for stuffing turkey. It called for bread, butter, salt pork, eggs, marjoram, summer savory, parsley and sage. The Frugal Housewife (1832) recipe called for crackers instead of bread. From then on bread and crackers were interchangeable in stuffing recipes. Bread could be stale bread cubed or bread crumbs. The basic recipes used herbs such as summer savory, thyme, sage, marjoram, and parsley. By the 1860's the basic stuffing was calling for oysters, chestnuts (two common favorites), celery, or raisins. Onions a common ingredient today (2008), do not show up until 1912 when Fannie Farmer suggested adding a few drops of onion juice. By the 1930's chopped onions are becoming common. Eggs fade out of popularity. Butter had replaced the salt pork in the 1860's.

Vermont Stuffing Recipes: In the New England Cook Book (1936) there is a recipe named "Vermont Stuffing". It is the only one that called for sausage. In the Vermont Cook Book (1946-1958) there are two recipes for Dressing Meat and Mushroom "Stuffing". All three are stuffing recipes and were used to stuff chicken and turkey. Dressing Meat 1 is ordinary and similar to other New England Bread Stuffing recipes. Dressing Meat 11 includes giblets (liver & heart), and one pound of sausage. Sausage therefore appears to be a Vermont recipe. Mushroom stuffing called for one pound of mushrooms making them a primary ingredient in the otherwise bread stuffing. This use of a main ingredient other than bread shows up in the Basic Cook Book published in Cambridge, Massachusetts and widely used throughout New England in the mid 1900's.

The Basic Cookbook published by Houghton-Mifflin Company dated 1933-1967 listed a basic bread stuffing recipe with ten variations: Parsley, Sage, Celery, Apple, Mushroom, Raisin, Prune, Orange, Apricot, Mixed Herbs – summer savory, sweet basil, & thyme. The new versions were developed to highlight the individual flavors. Stuffing recipes by the 1900's became popular. Eleven new recipes were offered. Some are old favorites and others are new: Oyster Stuffing, Corn-Bread Stuffing, Wild rice and Mushroom Stuffing, Savory Bread or Cracker Stuffing, Tomato Bread Stuffing, Chestnut Stuffing, Potato Stuffing, Savory Potato Stuffing, Pineapple Stuffing, Dill Pickle Stuffing, and Cranberry Stuffing. People's tastes were changing as reflected in the new recipes.

Thanksgiving Boston 1920
Boston Cooking School published a magazine in addition to its cook books. The November 1920 issue gave meal plans for Thanksgiving. It had two categories formal and country.
Formal: I - Hot Galantine of Turkey, Giblet Gravy, II - Roast Turkey Stuffed with Chestnuts
Country: I - Roast Turkey with Bread Stuffing, Giblet Gravy, II - Roast Pork Tenderloin