Pumpkin Soup
Is it a New England recipe?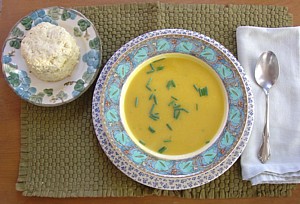 I came across a recipe for pumpkin soup in Yankee's Colonial Cook Book (1982). The 1972 and 1976 editions did not have the recipe. In Waste Not / Want Not, A Booke of Cookery, Some Interesting Recipes of Old Acadia (Eastern provinces of Canada) (1978) also has a recipe for pumpkin soup. It states, "This is a soup familiar to many New Englanders but found all along the Eastern Seaboard of North America." I tried it and liked it so much that each autumn I look forward to the sweet sugar pumpkin harvest to make the recipe. Thinking it was a true old New England recipe I chose it for an autumn recipe. What a little research will reveal!
The earliest New England cook book with the recipe is The Community Cook Book published by a group of ladies from Rhode Island in 1947. It calls for pumpkin and sweet potato, a southern ingredient. If it did not originate in New England then where did the soup recipe come from?
A 1745 London cook book, Treatise of All Sorts of Foods, said pumpkins were difficult to digest and caused "Wind [gas] and Cholic." A 1770's British cook book referred to pumpkins as poor people's food. By the 1800's the British attitude had changed. In the Professed Cook, an 1812 British cook book, there is a fancy pumpkin soup recipe. The cook book has French subtitles and is though to have been translated from a French cookbook. The French Domestic was translated into English and published in London 1846. It had three different pumpkin soup recipes. Home Dissertations, a New York cook book from 1886 stated, "Pumpkin or squash soup is almost a national dish in France." This statement has merit in that the British cook books with pumpkin soup recipes are French cook books translated into English.
New England and mid western cook books show pumpkins were used for pies not for soup. This includes the New York 1886 Royal Baking Powder cook book which collected recipes from women across America. However, in New York a few cook books starting in the 1850's carried pumpkin soup recipes. Later the recipes show up in two mid western cook books. In 1896 the Daily News Cookbook of Chicago stated, "This is a novelty and delicious." The fact the recipe was a novelty confirms it was a specialty recipe in America and the reason it does not show up in common regional cook books.
In 1846, the French Domestic, translated and published in London offered three different pumpkin soup recipes. The first was a pumpkin soup made with a vegetable broth. The second was a pumpkin soup made with water and milk broth. The third was a pumpkin soup made with milk. The milk versions had sliced bread added.
In 1852, a vegetable broth type that was thickened with flour shows up in a London magazine the Cottage Lamp. By 1858, a similar vegetable broth recipe shows up in a New York far, journal the Genesee Farmer. In 1885 (New York) Juliet Corson's New Family Cook Book called for pumpkin and celery cooked in water until soft, which was then mashed. The mashed vegetables are returned to the vegetable water broth. The vegetable broth was then thickened with a mixture of flour and water. The soup was garnished with fried bread. This is the recipe that shows up the 1896 (Chicago) Daily News Cook Book.
At the same time the pumpkin / vegetable soup version was in use another pumpkin / milk soup version shows up. In 1886 (New York), the Home Dissertation cook book which made the statement pumpkin soup was a national dish in France published a recipe quite close to a French recipe. It used cooked pumpkin and milk, butter, salt and pepper. The soup was served with toasted bread. In 1898, an Illinois seed producer published a cook book, Vaughan's Vegetable Cook Book. This is the French pumpkin and milk recipe with sugar, butter, salt and pepper. It is quite similar to the 1886 New York recipe except it includes the French use of sugar.
Seventy five years later the 1947 Rhode Island Community Cook Book, called for pumpkin and sweet potato cooked in salted water. A small amount of Farina was added to thicken it. The vegetable / water mix is returned to the stove to boil longer to reduce liquid and then milk was added with sugar and butter. This version has a vegetable broth that was thickened like the 1885 New York version but has milk added like the French recipes. In addition, it has sweet potato rather than celery. It is a mix of several different recipes with a decidedly southern accent.
The 1978 Acadia (Canadian) Waste Not / Want Not, A Booke of Cookery version's is French with pumpkin, milk, butter, sugar, salt and pepper.
The 1982 edition of Yankee's Colonial Cook Book (New England) has a different version. It calls for pumpkin, chicken broth (bouillon), butter, cream, wine (sherry), onion, sugar, bay leaf, thyme, garnished with [fresh] parsley or chives. It's delicious. The use of bouillon is similar to the French Garbure (soup) which had a pumpkin version. Like the Rhode Island version it combines milk and broth (meat instead of vegetable). The addition of wine and herbs for flavoring, plus a green herb garnish was not found in other cook books. This may be a modern adaptation.
Pumpkin soup originated in France. The French developed several recipes and even a fancy way to serve the soup as noted in the British translated 1812 Professed Cook. The pumpkin shell was cut into two pieces in a way it could be put back together. Sounds like the top was cut off like our Jack-o-Lanterns. The seeds and flesh were scooped out. The shell was carved on the surface not all the ways through. The carved lines were filled with whipped egg whites and browned. This created a decorated tureen (soup bowl). In this recipe the flesh was cooked to a thick consistency. To it, hot milk and 6 egg yolks were added. Dried bread crusts were put in the bottom of the pumpkin shell and then the soup was poured in. The pumpkin top was put back on and the natural soup tureen was brought to the table. This was a fancy way of serving pumpkin soup.
Pumpkin Soup (New England)
1 small whole Sugar Pumpkin (3-4 pounds) 2 cups chicken broth
1¾ to 2 cups cooked pumpkin puree 1 cup cream
1 Tablespoon butter ¼ cup wine (sherry) (optional)
1 small onion
1 bay leaf
½ teaspoon thyme
Buy: 3 – 4 pound sugar pumpkin; these are the small pumpkins. They are less stringy than the large Jack-o-lantern pumpkins and are much sweeter
Prepare Pumpkin: Cut in half, remove seeds, cut in quarters or eights and steam with skin on about twenty minutes or until flesh is soft. Scoop out soft flesh and either weight out 1 pound or measure 1¾ - 2 cups, packed solid. Puree in blender or food processor. Set aside. Any remaining pumpkin can be used for pumpkin pie bread, muffins or frozen for later use.
Melt: 1 Tablespoon butter in sauce pan
Add: 1 Small onion, chopped
Saute: until onion is translucent
Add: 1¾ - 2 cups (1 pound) fresh steamed pumpkin, drained and pureed, packed
2 cups chicken broth
1 bay leaf
½ teaspoon thyme
Cook: bring to a low boil, turn heat down and simmer on low 15 minutes, stirring occasionally
Add: 1 cup cream and ¼ cup wine (sherry)
Heat: thoroughly (do not boil)
Take out: bay leaf
Garnish: with fresh chopped parsley or chives
Serve: with warm Homemade Rolls
Pumpkin Soup (French)
1 small whole Sugar Pumpkin (4-5 pounds)
3½ to 4 cups cooked pumpkin puree
3 cups Milk
3 Tablespoons Butter
1 teaspoon Sugar
Salt and Pepper to taste

Prepare Pumpkin: Cut in half, remove seeds, cut in quarters or eights and steam with skin on about twenty minutes or until flesh is soft. Scoop out soft flesh and either weight out 2 pounds or measure 3½ - 4 cups, packed solid. Puree in blender or food processor. Set aside. Any remaining pumpkin can be used for pumpkin pie, bread, muffins or frozen for later use.
Sauce Pan: Pumpkin puree (3½ to 4 cups)
Hot milk (not boiling)
Butter
Sugar
Salt & Pepper
Heat: thoroughly (do not boil) and serve
Garnish: Toasted Bread or Crackers on top of soup