Oyster Stuffing
History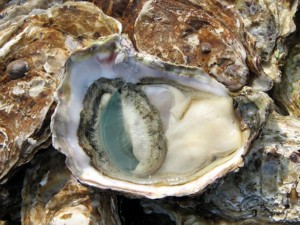 Oysters are found in coastal waters along the eastern coast of North America, Britain and the Mediterranean as noted in recipes that are associated with these regions. The earliest cook book I have as a reference is the 1685 The Accomplisht Cook, London. In it is a recipe for a stuffing using oysters. Oysters were added to stuffing used in calves head, leg of mutton (sheep), and fowl (chicken). The fowl recipe was named "Sauce with Oysters and Bacon". The oysters were cooked and mixed with spices and herbs and "fill the Pullets belly and roast it." Whereas stuffing for calves head oysters were mixed with brain, tongue, marrow, suet, eggs, and grated bread (crumbs). Stuffing used in hare (rabbits) and pigs was called pudding. It was made of grated bread, suet, eggs, and cream, a form of bread pudding.
By the 1720's in England fish were being stuffed and baked. The Cook's and Confectioner's Dictionary (1723, London) had a stuffing recipe for fish: eggs, cives [chives], parsley, Truffles and Mushrooms, optional mix with bread crumbs soaked in milk. This was an expensive dish. In the same cook book was a recipe for stuffing for fowl: veal sweet-breads, marrow, oysters, and anchovies plus herbs and spices. To stuff a fowl: "raise up the skin on the Breasts of your Fowls; stuff the hollow with this Farce [stuffing], and stick [tie up] them up again." Note the stuffing was placed underneath the skin not inside the body cavity.
Placing the stuffing under the skin of chicken apparently was the common custom as Mrs. Gardiner from Boston in 1763 said, "Loosen the Skin on the Breast of the Turkey or Fowl, and fill it with…" She used "Mock Oyster Sauce" made up of beef suet, bread crumbs, anchovy, lemon peel, nutmeg, parsley, thyme, chopped and mixed with an egg. Not a sauce but a form of stuffing.
By 1796 Amelia Simmons says to place the stuffing inside the cavity of the bird. There was some debate as to whether it was best to stuff under the skin or to stuff the body. Simmons had several different stuffing recipes for turkey and chicken. 1) Salt pork and bread, 2) beef suet & bread or mashed potatoes and herbs, and 3) "To Smother a Fowl in Oysters – Fill the bird with dry Oysters".
In 1832 in the Boston area the Cook's Own Book chicken stuffing recipe said, "Fill your chickens with young oysters cut small, truffles, parsley and spices, and roast them." In the same cook book turkey was stuffed with sausage and chestnuts, whereas fish was stuffed with cut up fish and bread crumbs.
There was no distinction between stuffing for chicken or fish. Some cooks used bread crumbs in turkey and chickens and others used bread crumbs in fish. In an 1844 book A New System of Domestic Cookery 67th London Edition, published in Philadelphia is a recipe for Baked Haddock, Scottish Fashion "stuff with oysters chopped but not too small, and bread crumbs blended with an egg." This apparently became popular because when Mrs. Lincoln published her 1884 Boston Cooking School Cook Book she had a refined oyster stuffing recipe using cracker crumbs specifically for fish. Cracker crumbs today are primarily used in seafood stuffing. Mrs. Lincoln made a distinction between turkey / chicken stuffing and fish stuffing. Turkey/ chicken stuffing did not have oysters.
Other cook book authors did not follow her distinctions.
1880 Miss Parloa's New Cook Book: Boiled turkey (a common way to cook turkey) stuffing celery & bread crumbs, or oysters may be substituted for celery
1908 Lowney's: Oyster stuffing for roast chicken
1912 Fannie Farmer's Boston Cooking School: Oyster stuffing for fish
Oyster stuffing for roast turkey
Oysters where they were readily available have been used with and without bread crumbs for stuffing turkey, chicken, fish as well as other meats for over 335 years. New Englanders like other coastal areas used oyster stuffing. Although chestnuts and sausage are the better known ingredients associated with New England stuffing. As with everything there are exceptions, this New England author grew up on bread stuffing without the extras.
"Choosing the Stuffing for poultry, fish, meat, or vegetables is a matter of personal preference. Some like it dry, buttery stuffing better than a moist one." (The Basic Cook Book, Boston, 1967)
"BREAD DRESSING WITH MUSHROOMS, OYSTERS, NUTS, GIBLETS, ETC – There are no set proportions for ingredients in bread dressing. It should be palatable, light and slightly moist, well flavored but bland. Chopped green peppers, nutmeats, sauteed mushrooms and drained slightly sautéed oysters may be added to it. Stock or oyster liquor may be substituted for milk." (Joy of Cooking, by Rombauer & Rombauer, New York, 1995)
No two stuffing recipes are alike in cook books. An example: one oyster recipe with 4 cups of bread crumbs called for ¼ cup melted butter. Another oyster recipe with 2 cups of bread crumbs called for 2/3 cup melted butter. Interestingly, the 1995 recipe with 2 cups bread crumbs suggests filling the crop (loose skin at the neck attached to the breast like the old recipes). There are basic ingredients associated with different types of stuffing. The basic ingredients for Oyster Stuffing were used to create the recipe presented here. Ultimately the ratios and ingredients are up to the individual cook, depending upon one's preferences and dietary needs.
Oyster Stuffing
4 cups bread crumbs or lightly toasted bread cup up into cubes
¼ to ½ cup melted butter
¼ to ½ cup celery, chopped
¼ to ½ cup onion, chopped
2 Tablespoons dried parsley or ¼ cup chopped fresh parsley
1 cup oysters, lightly sautéed, raw (remove tough muscles), canned – small use whole, large chopped
Salt & pepper to taste
¼ to ½ cup oyster liquor
1 egg
Optional, juice of one lemon
Mix ingredients and fill body cavity of poultry
Makes enough stuffing for an 8-10 pound turkey
This recipe has not been tested. It was created using recipes from several different cook books. It incorporates the most common ingredients and most common quantities found in Oyster Stuffing recipes. The quantity of any ingredient can be increased or decreased according to your taste.
Seafood Oyster Stuffing with Cracker Crumbs
From: Boston Cooking-School Cook Book (1926 edition)
note: This recipe was for a 4 pound cod.
1 cup cracker crumbs
1 cup melted butter
½ teaspoon salt
1/8 teaspoon pepper
1 ½ teaspoons lemon juice
½ tablespoon finely chopped parsley
1 cup oysters
2 tablespoons oyster liquor
"Add seasonings and butter to cracker crumbs. Clean oysters and remove tough muscles; add soft parts to mixture, with two tablespoons oyster liquor to moisten."
Oyster Stuffing with Cracker Crumbs
From: Boston Cooking School Cook Book (1884 edition)
"Oyster Stuffing: One pint of oysters, one cup seasoned and buttered cracker crumbs. Drain and roll each oyster in the crumbs. Fill the fish with the oysters, and sprinkle the remainder of the crumbs over the oysters."
Photo Credit: This Wikipedia and Wikimedia Commons image is from the user Chris 73 and is freely available at http://commons.wikimedia.org/wiki/File:Open_Oyster_Lyon_market.JPG under the creative commons cc-by-sa 3.0 license.