Featherbeds
"A New Hampshire Potato Roll"
Eleanor Early, New England Cookbook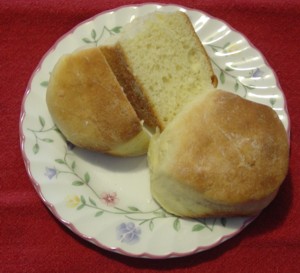 Eleanor Early's 1954 "Featherbeds" recipe is an exact match, word for word as The New England Yankee Cookbook's 1939 recipe. The recipe was slightly different from other Potato Rolls, Potato Biscuit, Potato Buns, Refrigerator Rolls, Lebanon Rusk, French Rolls, and Potato Bread all of which used potatoes, in that it used potato water. Potato water was found in only one other recipe "Bread with Potatoes" a recipe from Sheboygan, Maine published in the 1883 Buckeye Cookbook Traditional American Recipes (Dover Publication title). Original 1877 title Buckeye Cookery and Practical Housekeeping by Buckeye Publishing Minneapolis, Minnesota and a later 1883 revised edition, Practical Housekeeping: A Careful Compilation of Tried and Approved Recipes. Adding potato water may be a New England tradition.
Bread, rolls, buns, biscuits, and rusks are all terms that showed up under recipes with yeast based dough. In the 1883 Buckeye recipe "Bread with Potato Sponge" from Marysville, Ohio it stated, "make into loaves or biscuit". The recipe indicates how the dough was shaped determined whether it was named a roll, bun, biscuit, or loaf of bread. Loaf refers to a high oblong shape. Biscuit refers to a low round shape like a round layer cake. Biscuits started out as a large low round shape. In time, cooks switched to making small low round shapes we associate with biscuits today.
The name "Featherbeds" seems to date to the mid 1900's in New England. It showed up in The New England Yankee Cookbook (1939) and New England Cookbook (1954). Another closely related name is "Feather Rolls" which is from the 1947 Boston Cooking School Cookbook. The Vermont Cook Book (1946-1965) had a recipe called "Featherbed Rolls". Recipes with the name "feather" sometimes included potatoes and other times did not include potatoes. Featherbeds was a name New Englanders gave to recipes which produced feather light rolls.
To get a feather light tender roll, biscuit or bread back in the 1800's and up to the mid1900's it was necessary to add mashed potatoes or potato flour to yeast dough. Although potatoes never became a mainstream ingredient in bread making they did have a wide following throughout America. The concept of using potatoes in yeast dough was traced back to an 1805 London cook book called A Treatise on the Art of Making Bread. By 1805 it had been discovered "… they [potatoes] seem to have an admirable effect in making any species of bread, naturally harsh and heavy, both light and pleasant." (Edlin 1805,137) The author of this book was as much historian as baker. He gives a short history of potatoes.
In 1578 Admiral Drake brought potatoes home from the islands west of the Straights of Magellian. For near a century they were only cultivated in Ireland. Around 720-1730 they found a place in the kitchen gardens of England. The first published record of potatoes was in 1671 due to a heavy loss of wheat (grain) crop. People could live on potatoes and water as was done in Ireland. Experiments sponsored by Board of Agriculture around 1800 were under taken by a prominent physician who chemically analyzed the potatoes to see what they were made up of. It was found they had some of the same properties as wheat and were indeed a potential substitute for wheat in many ways. They could be made into potato flour and used in baking with one exception. Potatoes lacked an adhesive property found in wheat, the gluten which allows dough to bind together. So potatoes (mashed) or potato flour needed to be used in a ratio of 1/3 to 2/3 or ½ to ½ with wheat flour. This produced a light textured potato / wheat bread verses the heavy textured whole wheat bread.
About the recipes
Featherbed rolls with and without potatoes, and potato rolls / biscuits that used yeast as the rising ingredient varied widely in the quantity of butter (shortening) and sugar. Rolls made with a tiny (1- 2 tablespoon) quantity of sugar do not brown when baked. They remain white which was once a desirable trait, "white, light and tender" from the cook who submitted the "French Rolls" recipe to the Buckeye Cookbook. Several potato biscuit and roll recipes said to cut the dough in rounds ½ inch thick, butter the top of a roll and place a second roll on top. This is sometimes referred to as Split Rolls.
Featherbeds (with Potatoes)
2 large potatoes, peeled, cooked and mashed
1½ cups potato water
1 teaspoon salt
2 Tablespoons sugar
3 Tablespoons butter
¾ cup milk
1 yeast package (dissolved in ¼ cup warm water)
7 cups flour (approximate)
Peel, cook and mash potatoes, save 1½ cups potato water
Add butter, salt, and 1 tablespoon sugar to mashed potatoes
Add potato water to mashed potatoes
Scald milk, cool to lukewarm and add to mashed potato mixture
Dissolve yeast in warm water and 1 tablespoon sugar
Add to mashed potato mixture and stir in 4 cups flour. Beat well
Add enough remaining flour to make dough stiff enough to knead
Knead until smooth
Place in a large bowl, brush top with melted butter
Cover and let rise until double in bulk (original recipe states "at least 5 hours")
Author's experience about 1 hour
Place on floured board; pat into pieces ½ inch thick; pinch off small pieces and shape into 48 tiny rolls
Place on greased pan; let rise until more than double in bulk
Bake in 375 degree oven for 20 minutes, or until done
Rolls do not brown, they remain white
Featherbeds (without potatoes)
3 eggs
½ cup sugar
½ cup soft butter (lard was listed in original recipe)
1 cup warm milk
2 yeast cakes (packages)
3½ cups flour
Dissolve yeast in ½ cup warm milk and a teaspoon sugar, rise until doubled 5 to 10 minutes
Combine softened butter and sugar; add eggs well beaten
Add dissolved yeast, rest of warm milk
Add flour and mix well
Let rise until doubled
Put ½ cup flour on board
Divide the dough in equal parts
Roll each part round to ½ inch thick
Spread with soft butter
Cut in fourths, each quarter is cut into four sections, "like piece of pie"
Begin at wide end and roll up
Lay pointed end on pan to bake a ½ inch apart
Let rise for 30 minutes
Bake in 350 degree oven for 15-20 minutes
Makes 32 rolls
Changes to above recipe: *** Authors Notes - For "Restaurant Quality" No Kneading Rolls
Add 1/4 teaspoon salt
Use extra 1/2 cup flour (4 cups total in mixing dough)
Mix melted butter, proofed yeast, sugar, milk, eggs, 2 cups flour
Beat with handheld electric mixer for 2 minutes
Add rest of flour
Let rise 1 hour
Roll 1/2 inch thick & cut with round 2 3/4 diameter cookie cutter
Brush with melted butter
Aluminum bake pans are much better than glass
Let rise 1 hour
Bake at 350 degrees for 15-20 minutes