Bran Muffins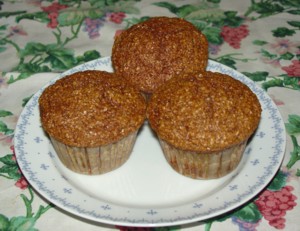 Bran muffins have been a favorite of New Englanders for many generations. Growing up, I remember bran muffins came from the bakery that were moist, tender and had a rich flavor. Bran muffins are easy to make but finding the best combination of ingredients was by trial and error. Molasses has always been a favorite ingredient of New Englanders. Their early bran muffin recipes called for a significant amount of molasses which gives the muffin some of its flavor. These early bran muffin recipes were made without fat. Later on a small amount of fat was added. The latest addition is applesauce to make a moist muffin. The Molasses Bran Muffin recipe is adapted from all the versions.
Molasses Bran Muffins
Makes 6 muffins
1 cup raw, unprocessed, flaked wheat bran
1/2 cup whole wheat flour
1/2 teaspoon baking powder
1/2 teaspoon baking soda (molasses reacts with soda to make a light muffin)
1/2 cup, plus 2 tablespoons milk
1/4 cup molasses (molasses comes in different strengths: strong flavored blackstrap (most expensive), medium flavored unsulphured (medium priced) and mild flavored (cheapest) – the flavor comes through in the muffin so use the type with a flavor best suited to your taste)
2 Tablespoons applesauce
2 Tablespoon oil (olive oil or canola)
1 egg
Optional: (one or both)
1/4 cup chopped nuts (Midwestern)
1/4 cup raisins (New England)
Mix dry ingredients in one bowl. In another bowl mix wet ingredients. Afterwards mix the two together until the dry ingredients are just moistened. Do not over mix.
Bake in greased muffin pan at 375 degrees for 18 to 20 minutes (19 minutes works best)
Muffins are best eaten fresh and should be used within two days. They keep well in a large glass container with wide mouth top with a rubber or plastic rim-sealed top cover. Recipe can be doubled for a dozen muffins.
Make ahead: individual batches of dry ingredients can be made up ahead and stored in airtight plastic containers. This saves times especially when making small half dozen batches. I make several batches at one time and store.
History
The earliest recipe comes from an 1857 cook book published in Philadelphia. The Bran Muffins recipe called for "three quarts of bran, (unbolted wheat flour)" and was raised with yeast. Many early muffin recipes called for yeast. In the New England area a recipe for Bran Biscuit appears in 1904 in Home Cookery published in Laconia, New Hampshire. It called for 3 cups bran, 2 cups white flour and 3 tablespoons of melted butter with cold water. The biscuit was rolled out thin like a cookie and baked. Here the bran appears to be flaked bran and not the flour bran of the 1857 recipe. This was determined because the recipe has white flour as the base ingredient. A few years later in 1907 Fannie Farmer published Food and Cookery for the Sick. In it she had a Bran Muffin recipe similar to what became the standard. However, this recipe was light on molasses.
By 1926 Fannie Farmer had a recipe for Bran Muffins in her famous Boston Cooking School Cook Book. The recipe called for 2 cups bran to 1 cup flour, a two to one ratio. It used a teaspoon of baking soda and ½ cup of molasses. To moisten the muffins it used 1¼ cups milk and one egg. A teaspoon of salt was added to bring out the flavor. This basic recipe was used continuously up through the 1970's in New England cook books. However, later versions added a teaspoon of baking powder for a lighter muffin.
The 1938 Settlement Cooking School Cook Book offered two very different Bran Muffin recipes. The author of this article only has the 1938 version which is the twenty-second edition, so it is not known if Bran Muffins were listed in earlier versions of this cook book. The first was listed under recipes Low in Starch and Sugar it used bran without flour or sweetener with buttermilk. The second was listed under Muffins it called for 2 cups graham flour to one cup bran sweetened with 1½ to 2 tablespoons of molasses.
New Englander's favored a high ratio of bran and molasses in their Bran Muffins. In cook books with nationwide appeal such as the Joy of Cooking the mid-western version with lesser molasses was adopted.