Boston Cream Pie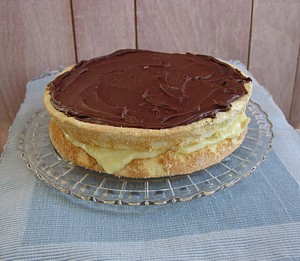 A traditional Boston Cream Pie is a two layer sponge cake filled with vanilla custard. Two traditional toppings: 1) powdered sugar sprinkled on top and 2) chocolate icing on top, only, not the sides.
Sponge Cake for two layers
6 egg yolks (large egg size)
1/3 cup water
1½ cup sugar
1 teaspoon vanilla
Beat egg yolks until thick and lemon-colored
Add water
Gradually beat in sugar, then add vanilla
1½ cup white flour
¼ teaspoon salt
Sift flour and salt
Fold into egg yolk mixture a little at a time
6 egg whites
3/4 teaspoon cream of tartar
Whip egg whites with cream of tartar until stiff peaks form
Gently and gradually fold beaten egg whites into egg yolk and flour mixture
Bake in two, 9 inch diameter by 2 inch high round cake pans. (If using 9 inch diameter by 1 1/2 inch high pans, you will need three pans.) Do not grease. Cut a round sheet of parchment or wax paper the size of the cake pan and place on bottom. Pour cake batter evenly into each pan. Bake 350 degree about 25 -30 minutes. Invert pan on rack and let cool before removing cake. Cake will shrink a little.
Custard Cream Filling
Heat in sauce pan
1½ cups milk
½ teaspoon vanilla
Do Not Boil Milk
Double boiler – in top mix
½ cup sugar
¼ cup flour
2 large eggs
Beat mixture until light. Gradually add heated milk
Place top of boiler over but not in hot water in bottom of boiler.
Cook, stirring constantly until mixture begins to thicken.
Remove from heat and pour into a stainless steel cooking bowl. Place wax paper directly on top of custard, this prevents a crust from forming. Put bowl in refrigerator on a rack for two to three hours until thoroughly chilled. When chilled, spread custard on top of bottom layer. Frost top layer of cake with chocolate icing before placing on top of custard.
Chocolate Icing
Melt in sauce pan on low heat
2 tablespoons butter
Add
¼ cup cocoa
2 tablespoons water
1 tablespoon light corn syrup
Cook stirring constantly until a thick sauce, Do Not Boil, Do Not over cook as mixture will become dry
Remove from heat
Add
1¼ cups powdered sugar
½ teaspoon vanilla
Blend until smooth, Frost top only
Melt butter in saucepan on low, add cocoa, water, corn syrup, cook stirring constantly until mixture thickens. Do Not Boil. Remove from heat and add powdered sugar and vanilla. Blend until smooth. Frost top only.
Origins
The earliest reference to a cream filled cake is Chocolate Petit Pains found in an 1832 Boston cookbook. This is a recipe for chocolate covered petite fours. In an 1845 New York cookbook is a recipe called Trifle Cake. A Rice Cake made with rice flour has its top cut off and filled a layer of custard, jam, and frothed (whipped) egg whites. In an 1855 Boston cookbook a recipe called Boston Cream Cake appeared. The recipe has no sugar, it is a muffin or biscuit which was split and buttered.
One or all three may have contributed to what evidentially became known as Boston Cream Pie. It is a layer cake filled with custard filling.
Name
Cream Cake
New York: As of 1845 cakes made with cream (fresh and sour) instead of milk were called Cream Cake.
Detroit: 1878 Boston Cream Cake (see Boston Cooking School 1912 next for explanation)
Boston: 1912 Boston Cooking School Cream Cake refers to a small cake (not a cup cake) with a small portion of cake taken out and filled with Cream (custard) Filling. To make éclairs make the cakes long and fill.
Cream Pie, Boston Cream Pie, Chocolate Cream Pie, Chocolate Pie
New Hampshire: In the 1872 Appledore Cookbook there is a recipe for Cream Pies. Make a thick sponge cake (made with water as the liquid), split in half and fill with Filling for Cream Pies, a custard (made with milk as the liquid). Where the cream in the name came from is unknown.
Boston: The "1884 Boston Cooking School Cookbook" lists Sponge Cake for Cream Pies filled with a custard like filling. The 1912 version continued to call it Cream Pie.
New York: 1886 Boston Cream Pie a sponge cake with a custard spread on top.
New York: 1886 from the Royal Baking Powder Company cookbook. Boston Cream Cake, a cake baked in four layers with custard spread between the layers.
Chicago, Philadelphia, Stockton, Cal.: 1889 "White House Cookbook" lists Boston Cream Pie. The recipe is split up into two parts: Cream part is the custard. Crust part is the cake. The authors were a bit confused by a recipe which was made with a cake but called a pie without cream. This recipe called for two layers with the custard in between.
Reading, Pennsylvania: 1936 "New England Cook Book" has Boston Cream Pie and Cream Pie listed under pies. Boston Cream Pie is a two layer regular white cake with custard filling. This version has powdered sugar sprinkled on top , a common topping found in other Boston cookbooks. Cream Pie is a pie with pastry crust filled with custard filling.
1952 Worcester Food Editor in "Favorite American Regional Recipes" offered this:
Boston Cream Pie: "two-egg butter cake baked in two layers in round pans, with a cream [custard] filling between layers and powdered sugar sifted over the top."
Chocolate Cream Pie: "Boston's Parker House put on chocolate frosting and listed the famous dessert as Chocolate Cream Pie, thus confusing outlanders who expected an open piecrust filled with chocolate pudding and covered with whipped cream."
Chocolate Pie: 1912 Boston Cooking School listed Chocolate Pie, the recipe called for "Mix and bake same as Cream Pie" A thin layer of chocolate frosting was spread on top of each cake layer. What is unclear is if the cream filling was used or not.
New Englanders including Bostonians called the layer cake filled with custard filling simply Cream Pie. The name Boston gets added sometime in the late 1880's and shows in up New York and other out of state cookbooks. This suggests the recipe had its origins in New England and was associated with Boston. The Basic Cook Book written and published in Boston starting in 1933 (info. taken from 1967, 5th ed.) is the earliest to date found to call the recipe Boston Cream Pie. The Parker House's recipe is the accepted recipe today (2009) and has been for many years commercially. However, the name "Chocolate Cream Pie" did not stick, it is known as "Boston Cream Pie"
A New York restaurant owner Thomas Lawrence of Lawrence Coffee House developed a version of the Boston Cream Pie in 1921 that made it a favorite dessert. "Nine out of ten people take 'Boston Cream Pie' …" "A man from a near-by office said in my hearing [author of article]: "Bring me the Boston Cream Pie before it is gone – I'll order my first course later." Mr. Lawrence covered his Boston Cream Pie with whipped cream.