Twin Mountain Muffins
& Blueberry Muffins
From
New England Cookbook
By Eleanor Early
Eleanor Early was a well known New England travel book writer. She also had an interest in the art of cookery. "… for many years has made a hobby of collecting and testing old recipes from New England." (from book jacket back flap)
The origin of this recipe is unknown. Its name suggests it came from Twin Mountain, New Hampshire, named after a pair of mountain peaks called North Twin and South Twin. Twin Mountain is at the northern end of Crawford Notch and the White Mountain Range.
Twin-Mountain Muffins
More than fifty years ago, Fannie Farmer printed a recipe for Twin-Mountain Muffins which became a basic New England recipe. Miss Farmer's book has gone into many editions since and, somewhere along the way, the muffins got left out. Our family has eaten and enjoyed them for four generations.
¼ cup butter [softened]
¼ cup sugar
1 egg, well beaten
2 cups flour
4 teaspoons baking powder
½ teaspoon salt
1 cup milk
1. Cream butter, add sugar and egg. Mix well.
2. Sift flour with baking powder and salt. Add to first mixture, alternately with milk, beating well. Fill greased gem [cupcake] pans, ½ full. [or ¾ full].
3. Bake in 375 degree oven for 25 minutes [recommend 21 minutes], or until done.
Blueberry Muffins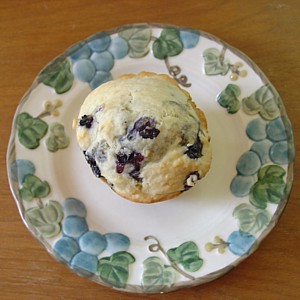 The best of having a good basic recipe for muffins (see above – Twin Mountain Muffins) is that it can be used with all kinds of variations.
For rich, wonderful blueberry muffins, fold into the batter 2* cups of blueberries. Do not beat. Bake as Twin-Mountain Muffins.
Optional: add an extra 1/4 cup sugar
*2 cups seems excessive, the normal amount is 1 cup blueberries
Editor's Note
What sets this recipe apart from modern muffin recipes is it doubles the amount of baking powder and sugar. This makes a light, semi-sweet muffin. The Twin Mountain Muffin is delicious warm. They go stale and dry out in a day. If any are leftover the next day, split and spread with jam. Bake in greased muffin pan, do not use cupcake papers. The cupcake papers make the muffin go stale in a few hours.
History
The earliest muffins were made with yeast. These were made into small balls of dough and placed on the oven floor to bake. Next came, muffins raised with saleratus and cream of tartar the forerunner to baking powder. In the 1872 Appledore Cook Book there are recipes for the two different types of muffins. The unsweetened yeast muffin recipe which had two ways to cook: 1) bake in muffin rings and 2) fry on the griddle in rings. If fried, the muffin must be turned over to brown on both sides. The fried yeast muffin was the forerunner of the English Muffin, a light yeast muffin that is round, thick and flat, dusted with cornmeal and fried on the griddle. It is pried apart never cut in half and served buttered or with jam.
The other Appledore recipe simply labeled Muffins, No. 2 was a sweetened muffin raised with saleratus and cream of tartar (an early form of homemade baking powder). It is very similar to the Twin-Mountain Muffin recipe.
The yeast raised "English muffin" and the baking powder raised "basic muffin" from the 1870's each became popular and have carried on into the 20th and 21st centuries.